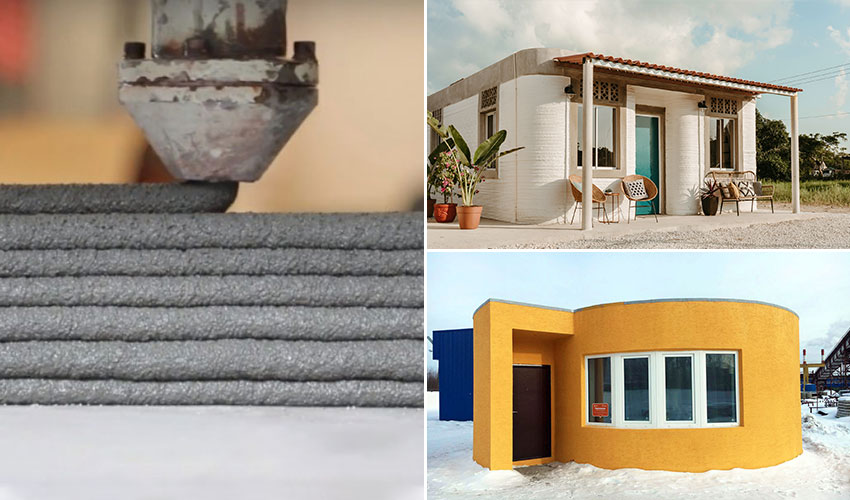 3D printing has caused a lot of ink to flow on the construction market, mainly when it came to 3D printed houses: we have seen a lot of projects announcing houses erected in less than 24 hours using very promising technology. Faced with so many promises, we must be wary: few of these initiatives have actually emerged and when this is the case, let us not be mistaken about what is really printed in 3D. Let's be clear, a 3D printed house only has walls designed by the 3D printer. It is already an innovation in itself because it allows you to go faster, to imagine a form impossible to do using traditional techniques, and at reduced costs. Additive manufacturing in construction also makes it possible to address areas that are difficult to access, disadvantaged or in conflict and can potentially respond to a crisis situation. For the moment, we do not yet have enough perspective to assert that a 3D printed house is more durable and will prove itself over time, but it is important to note that there are some in the world. Here are 10 houses printed in 3D!
3D printed social housing in Nantes
In April 2017, the University of Nantes launched the Yhnova project with a clear objective: to build social housing quickly and at reduced costs. For this, the project actors used an innovative 3D printing method which consists in extruding two layers of polyurethane foam of the expansive type and a third of concrete which serves as insulation. They thus erected the walls of this 95 square meter dwelling in 54 hours. An additional 4 months were then required to install the windows, roof and doors. According to project stakeholders, the construction of the house will have cost 20% less than traditional techniques, proof that additive manufacturing has a real interest in the construction sector. Today, the project has spawned theBatiPrint3D startup that will focus on 3D printing of tomorrow's buildings.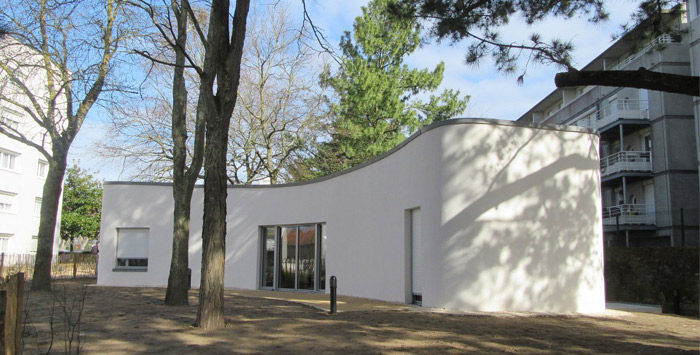 The 3D printed house in Nantes has been inhabited for a few months already
A residence in Mexico
New Story and ICON are working together to build the homes of tomorrow: the two companies have started to develop a residence with 3D printed houses in Mexico . The machine developed by ICON, the Vulcan II , would be able to design a house of 46 square meters in just 24 hours. The partners want to fight homelessness: each unit is supposed to accommodate people who have less than $ 3 a day. It consists of two bedrooms, a living room, a kitchen and a bathroom.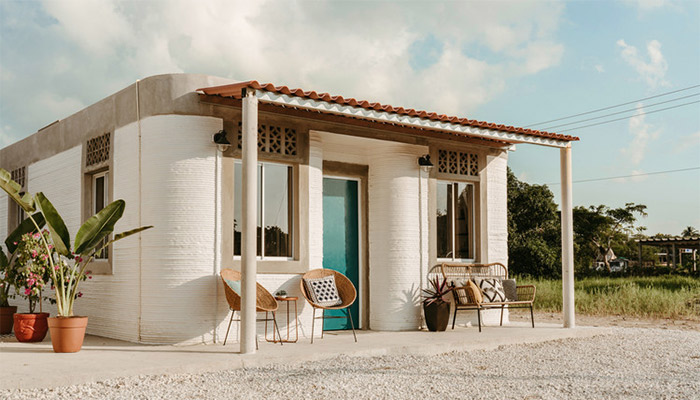 A first project in Africa
The startup Be More 3D is one of the first Spanish companies to have developed a concrete 3D printer. Born in the entrepreneurial ecosystem of the Polytechnic University of Valence, the young shoot announced a few months ago that it had succeeded in 3D printing a house on the African continent, in Morocco more precisely. It is a 32 m2 house created in less than 12 hours, thanks to the extrusion technology developed by the startup. It was built as part of the Solar Decathlon Africa 2019 competition which was held in the city of Benguerir in Morocco. The project reduces construction costs while reducing the rate of waste, CO2 emissions and professional risks that can arise on a site.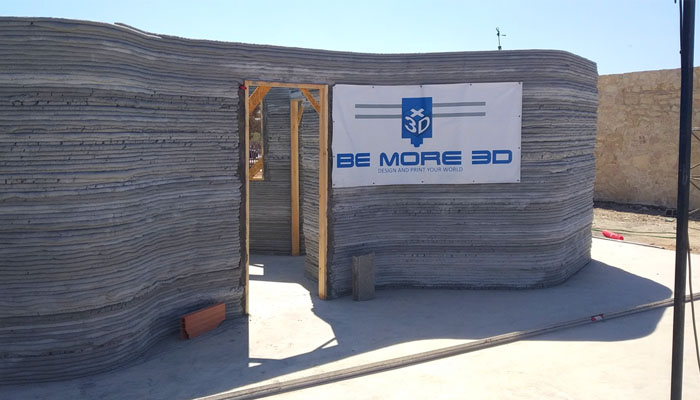 A 3D printed house in Russia
In 2017, Apis Cor made a lot of noise on the additive manufacturing market by presenting one of the first 3D printed houses in the world! The 38 m2 building, located in the Moscow region, would have been constructed using a mobile 3D printer capable of covering an area of ​​132 m2, in incredible time, namely less than 24 hours. The machine used would be able to withstand extremely low temperatures (-35 ° C according to the manufacturer). The 3D printed house has a flat roof with a polymer coating on which solid plates have been added to withstand various weather conditions.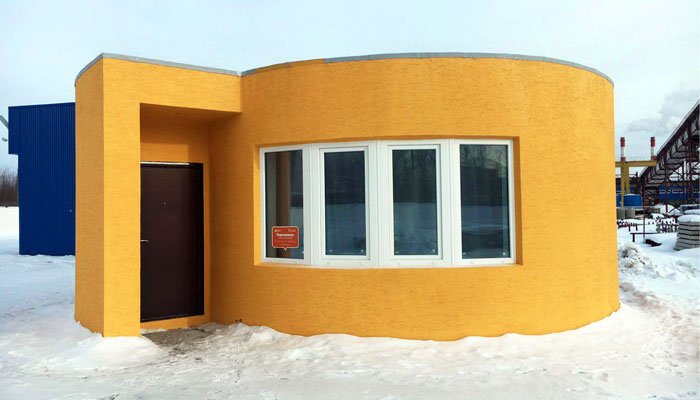 A 3D printed administrative center in Dubai
The largest 3D printed building in the world is currently located in Dubai on two floors. It measures 9.5 meters high and has a surface of 640 m2. It took 17 days to print it. So no, it's not a 3D printed house in itself but the greatness of the project deserves to be mentioned here. The municipality of Dubai has rightly used Apis Cor technology which has enabled it to generate 60% less waste. Only 15 workers were required on the site – twice compared to conventional construction methods. The project meets the city's objective of printing 25% of its buildings by 2030.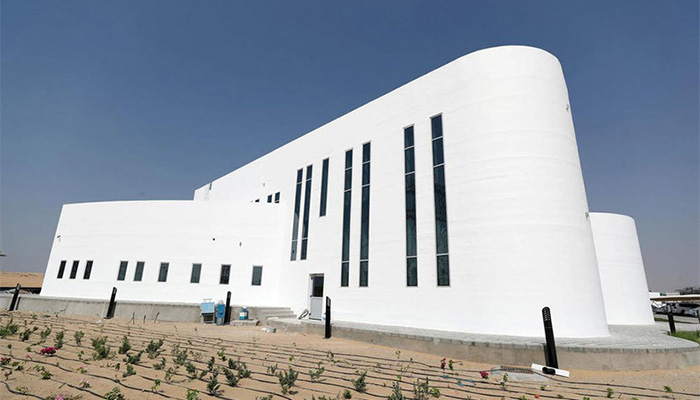 SQ3D designs a 3D printed house of 46 square meters
It was in August 2019 that the American company SQ3D (S-Squares 3D Printers) revealed its 3D printed house, designed using an XXL machine: it uses a robotic arm mounted on a gantry surrounding the site. In just 12 hours, the manufacturer claimed that it had erected the 46 square meter small house at a cost of $ 2,000. SQ3D's objective is to offer its 3D printing technology to disadvantaged areas and to build more accessible housing. The manufacturer remains however rather vague on the material used and the parts of the house which were printed in 3D.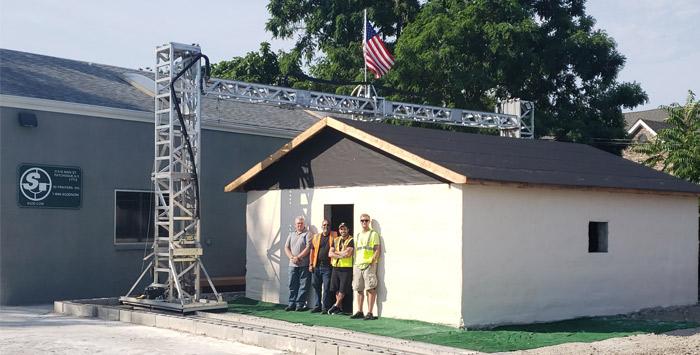 SQ3D's 3D printed house is 46 square meters
Gaia, an eco-sustainable house model
The manufacturer of 3D printers WASP has developed a range of 3D printers for the construction sector and is starting to gain a foothold in this market. One of the projects carried out by the Italian company is Gaia , a small house printed in 3D from organic materials. The house is approximately 30 square meters and is located in Shamballah, a small Italian village that includes several different houses 3D printed by WASP. The manufacturer used its Crane 3D printer to build it from mud and natural materials from rice crop wastes. It took about 10 days of 3D printing to complete its construction. More than a 3D printed house, it is a perfect example of an eco-sustainable house model!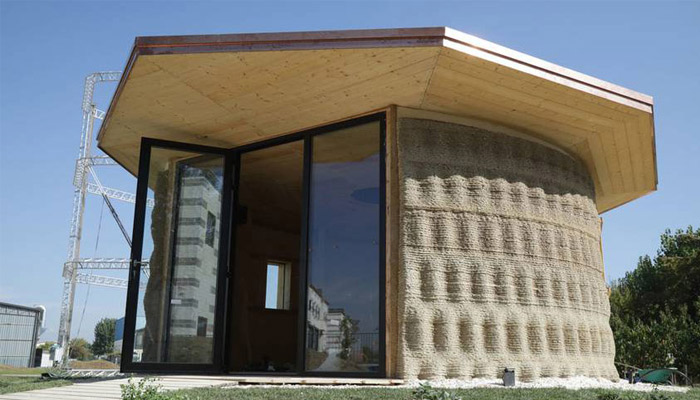 BOD, the first 3D printed office in Europe
It is not a house, strictly speaking, but this project is worth mentioning! COBOD, based in Denmark, printed the first office in Copenhagen in 2017 using its BOD printer. It is a 50 square meter building whose walls have been 3D printed in concrete. Since then, the company has launched a new 3D printer, BOD2, which it has already sold to Saudi Arabia to accelerate its 3D printing projects for housing for its inhabitants. The BOD2 printer is large enough to print three-story buildings over 300 square meters per floor.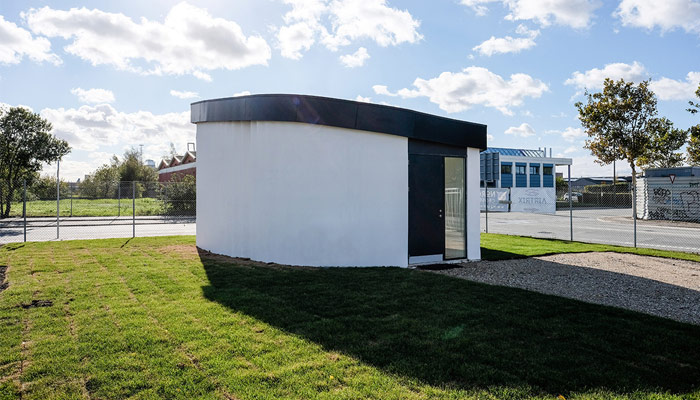 The office printed in 3D
Project Milestone, a community of 3D printed houses
In the Netherlands, the development of 3D printed houses is starting to take shape: more than a year ago, several Dutch companies announced the creation of the first housing estate developed with 3D technologies. The project, dubbed Project Milestone , is behind the Eindhoven University of Technology and four other partner companies – together they designed five houses for different families. Four of them would be on two floors, the last would be a bungalow. For the moment, the project has not yet started. We hope that it will be able to see the light of day very soon!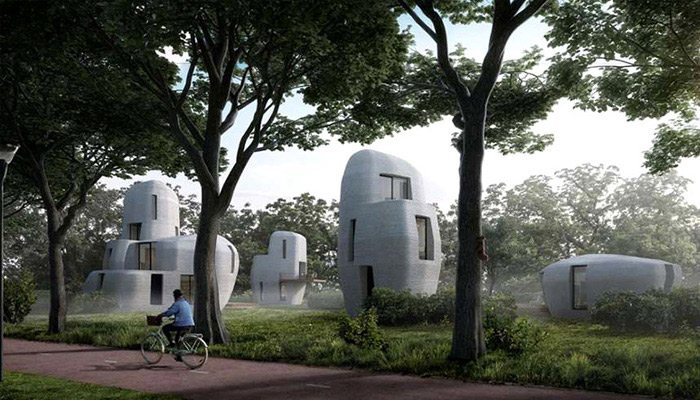 MARSHA, a 3D printed house on Mars
One of the great dreams of man is the conquest of space. So he started to develop plans to create houses in space that could withstand adversity. A few years ago, we told you about the ESA lunar village, but one project that stands out is MARSHA, created by the company IA Spacefactory for a NASA competition. This house was imagined to be installed on the planet Mars. For its development, they plan to use 3D printing and local materials, avoiding bringing materials from Earth. It is planned that the construction will be 34m2 and be in the form of a cylinder to optimize space and security in the face of temperature changes in the place. In the same way as Project Milestone, this initiative is only at the project stage.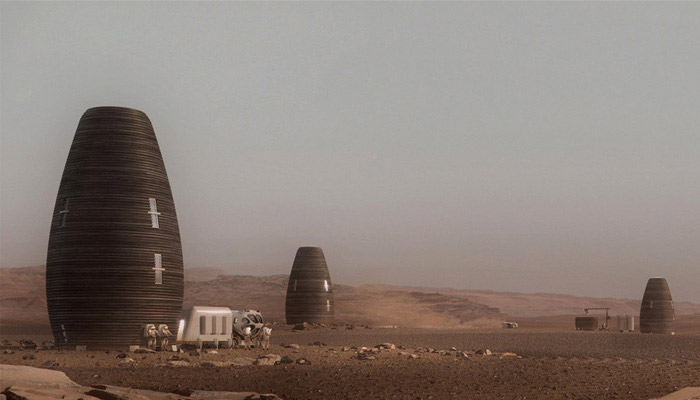 Source: https://www.3dnatives.com/maison-imprimee-en-3d-25022020/